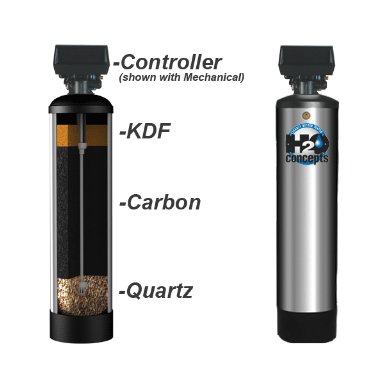 Features and Benefits
Great tasting water at every faucet and shower in your home.
Reduce or Eliminate

Chlorine
Heavy Metals
Contaminants

Healthier Skin and Hair
No Salt or Potassium to buy
Proven to reduce hard water problems
Virtually Maintenance free
Digital or Mechanical controller
Amp Force™ Technology
KDF Media
Activated Carbon
10 Year No-Nonsense Warranty
 
What is It?
Limescale is the hard, off-white, chalky deposit found in kettles, hot-water boilers and the inside of inadequately maintained hot-water central heating systems.
It is also often found as a similar deposit on the inner surface of old pipes and other surfaces where "hard water" has evaporated. Other than being unsightly and harder to clean, limescale seriously impairs the operation or damages various components.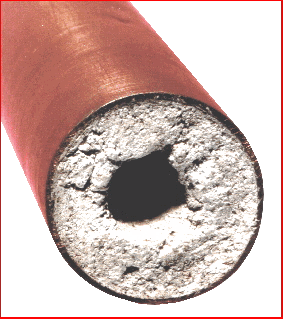 Exibit 1 Pipe Scale buildup
The type found deposited on the heating elements of water heaters has a main component of calcium carbonate. Hard water contains calcium (and often magnesium) bicarbonate and/or similar ions. Calcium salts, such as calcium bicarbonate and Calcium carbonate calcium carbonate are both more soluble in hot water than cold water. Thus, heating water does not cause calcium carbonate to precipitate per se. However, there is an equilibrium between dissolved calcium bicarbonate and dissolved calcium carbonate:
Ca2+ + 2HCO3- ⇋ Ca2+ + CO32- + CO2 + H2O
where the equilibrium is driven by the carbonate/bicarbonate, not the calcium. Note that the CO2 is dissolved in the water.
There is also an equilibrium of carbon dioxide between dissolved in water (dis) and the gaseous state (g): CO2(dis) ⇋ CO2(g)
The equilibrium of CO2 also moves to the right towards gaseous CO2 when the water temperature rises. When water that contains dissolved calcium carbonate is warmed, CO2 is removed from the water as gas causing the equilibrium of bicarbonate and carbonate to shift to the right, increasing the concentration of dissolved carbonate. As the concentration of carbonate increases, calcium carbonate precipitates as the salt: Ca2+ + CO32- ⇋ CaCO3.
As new cold water with dissolved calcium carbonate/bicarbonate is added and heated, CO2 gas is removed, carbonate concentration increases, and more calcium carbonate precipitates
Source: http://en.wikipedia.org
How the H2o Concepts Arizona Whole House Water Filter Systems solve your Hard Water issues.
H2o Concepts Clearly Better Water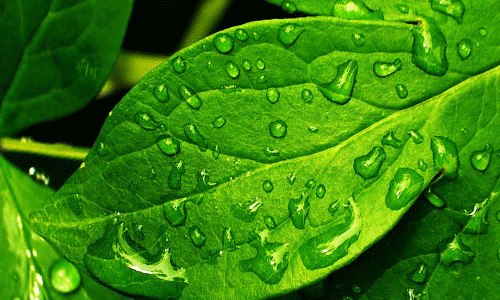 Better for the Environment
Healthier, better-tasting drinking water
Improves the taste of juice, coffee, soup, and ice
Eliminates need for bottle water or reverse osmosis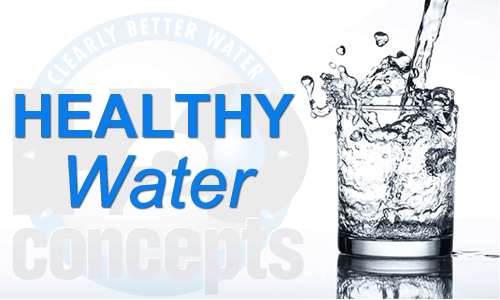 Better for Your Family
Leaves Vital Calcium and Magnesium in the water
Reduces or eliminates contaminants in the water
Cook, Shower, Bath without salt or potassium chloride laden water
Water without chlorine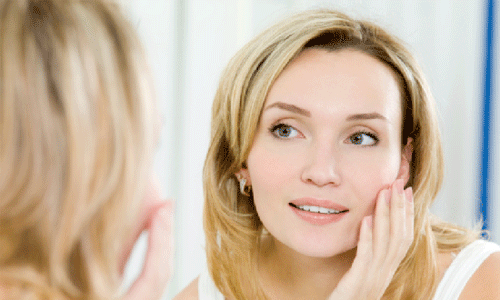 Better for Your Skin
Leaves skin feeling smoother after showering, shaving and washing
Makes hair healthier and more manageable
Reduces dry skin