Water Quality Association (http://www.wqa.org/)
The Water Quality Association's (WQA)
Gold Seal Certification Program represents the oldest third party testing and certification program in the drinking water treatment industry. WQA tested and certified its first product in 1959. WQA's Gold Seal has become one of the most recognized certification Mark's in the United States and throughout the World as an identifier of product quality. The Water Quality Association has established working relationships with the following agencies in order to maintain the highest standards for independence, state of the art operations, trust and acceptance in the USA and throughout the World.
• Environment Protection Agency (US EPA) 
• Food and Drug Administration (US FDA)
• Center for Disease Control (US CDC)
• World Health Organization (WHO)
• National Ground Water Association (NGWA)
• Plumbing Manufacturer's Institute (PMI)
• Aqua Europa
• Amsterdam RAI 
• NSF International (NSF), Underwriters Laboratories (UL), International Association of Plumbing Mechanical Officials (IAPMO), and Canadian Standards Association (CSA)
WQA Mission – Gold Seal Program
The Water Quality Association's Gold Seal Certification Program is dedicated to providing public health and safety services throughout the USA and globally, while maintaining expert service, superior reputation, and fair pricing. The Gold Seal Program offers certification of all products and chemicals that contact drinking water.
WQA Gold Seal Product Certification Program at a Glance
A Mark of Product Quality
Manufacturers and suppliers of products that contact drinking water, including chemicals, plumbing components, filters, water softeners, coatings, faucets, reverse osmosis systems or any other product(s) that contacts drinking water can be certified by the Water Quality Association's (WQA) Gold Seal Product Certification Program.
Benefits
Our program helps consumers choose quality water treatment products, provides specifying engineers a list of approved products that can contact drinking water, and assures manufacturers, regulators and consumers that products certified by the Water Quality Association comply with all requirements of standards used throughout the drinking water industry (WQA, NSF/ANSI, IAPMO, ASME, and ASTM). Products that display the Gold Seal provide assurance to consumers and regulatory agencies that these certified products have been rigorously tested and meet the requirements of the standard, WQA's program polices, and WQA's plant inspection policies for which WQA maintains certification.
WQA was the first organization to developed testing standards and certification policies for products that treat drinking water and consumer surveys illustrate that the Gold Seal Mark is one of the most recognized seals by consumers.
Benefits of the Water Quality Association's Gold Seal Product Certification Program include: One on one communication with a certified water specialist, testing conducted in a state of the art laboratory, quick turn around times, fair pricing, and use of the Gold Seal (the industries most recognized Mark for product quality).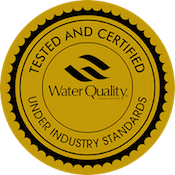 Accreditations
WQA's Gold Seal Program has also been accredited by the American National Standards Institute (ANSI) and the Standards Council of Canada (SCC) to ensure that our certification program meets all your regulatory needs and requirement in order to sell or distribute your product throughout North America.