U3 Drinking Water Filtration With Fluoride Reduction
Features and Benefits
Water filtration at a faucet
No Chlorine
No VOC'c
KDF Carbon Media
GAC (Coconut Shell Granular Activated Carbon)
Fluoride Reduction
The H2o Concepts U3 drinking water system attaches under the sink to the cold water supply line of your existing faucet; providing better than bottled water quality for drinking and cooking:
No Chlorine
No Heavy Metals
No Voc's (Volatile Organic Compounds)
Fluoride Reduction
U3 Compared to Reverse Osmosis Systems
No separate low pressure spigot
Requires no hole in sink or counter top
No Bulky under sink holding tank
pH balanced mineralized water on demand
Reverse Osmosis systems produce acidic water
Every system is manufactured by H2o Concepts in our Phoenix, AZ (USA) facility, The U3 system comes standard with a Fluoride Filter, GAC-10N and a GAC-10N-KDF filter.
GAC filters are an effective way of removing volatile compounds from drinking water for better tasting water. They are used to remove chlorine odor and taste from water.
Fluoride filter reduces fluoride in your drinking water.
Note: Do not use with water that is microbiologically unsafe or of unknown quality without adequate disinfection before or after the system. Systems certified for cyst reduction may be used on disinfected waters that may contain filterable cysts.
Specifications / Options
Supply: 1/2 inch
Control Valve: None
Filter Media: GAC-10N GAC 
(10″ Activated Carbon GAC Filter Cartridge is a granular activated coconut carbon water filter replacement cartridge Max. Flow Rate: 1 Gallon Per Minute (GPM))
Filter Media: GAC-10N-KDF
GAC KDF Water Filter Cartridge is a water filter manufactured with high quality coconut shell carbon and KDF in order to improve the taste of drinking water. The media is effective in the removal of organic compounds from water, such as chlorine, radon, VOCs.
Filter Media: Fluoride Filter 
Fluoide Media reduces the fluoride levels in your water.
Scale Control: None
Certifications: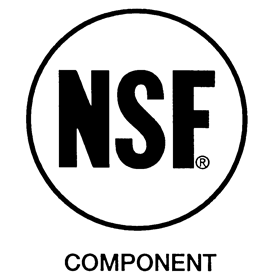 Install Diagram