If you've been searching for a
Phoenix whole house water filter
that will provide your family with clean, healthy, and delicious water, then we have good news – you've come to the right place!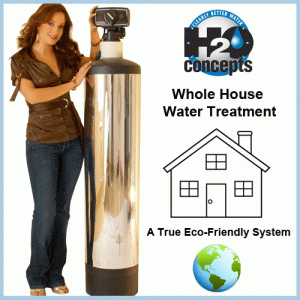 At H2o Concepts, we have a long history of providing the very best in water treatment systems. Our advanced
Phoenix Whole House Water Filter
uses AMP Force Technology to dismantle the minerals that are commonly found in hard water; the remaining water is then sent through a series of filters to remove additional heavy metals, bacteria, and other unwanted contaminants. And the most amazing part is that this entire system is contained in one easy-to-use tank that requires absolutely zero salt, unlike many other water conditioning units. If you'd like to find out more about the best
Phoenix Whole House Water Filter
around, feel free to contact us. We can be reached by phone at 623-582-5222 or through the contact form on our site.
Why Choose H2o Concepts
We know that there are a lot of different water treatment businesses out there. So how do you know that H2o Concepts is the right company for you? Here are just a few reasons you can trust H2o Concepts to take care of all your water filtration needs:
We Use Top-Tier Water Filtration Technology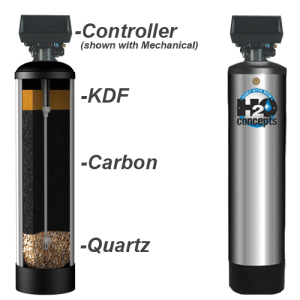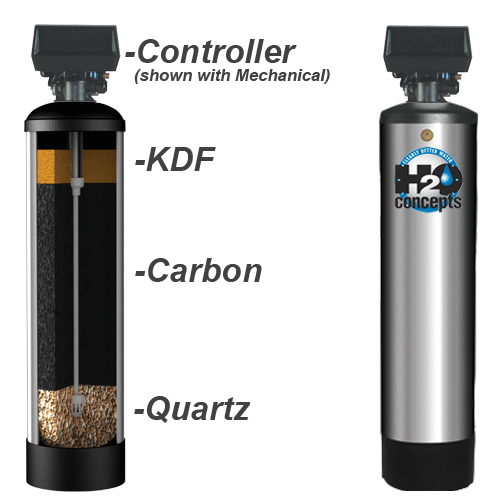 Our water conditioning systems are based on technology that has proven to produce the healthiest, best-tasting water you've ever had. We use AMP Force Technology to change the calcium and magnesium that create hard water into a more soluble form. This allows the minerals to break down more easily without removing the positive health benefits they provide. After the minerals have been broken down, the water is sent through a set of filters containing KDF media, Granular Activated Carbon, and quartz. Each of these filters serve a specific purpose, removing unwanted contaminants such as nasty taste and odor compounds, scale, bacteria, algae, heavy metals, chlorine, and more. This process leaves you with clear, delicious, healthy water that your family will love.
Our Systems are Manufactured in the USA
One of the best benefits to purchasing one of our high-quality
Phoenix Whole House Water Filter
is that you're supporting a local company; all of our units are manufactured on-site at our location in Phoenix.
Our Customer Service is Hard to Beat
Not only are we dedicated to delivering the best water filtration systems around, we're also committed to providing exceptional customer service that goes above and beyond our clients' expectations. Our team understands that a company's reputation is built one customer at a time. We treat our customers with the utmost respect and do everything in our power to make sure they're more than satisfied with the products and services they receive.
Every Installer is Part of Our Team
One way we ensure that all of our customers receive the best service possible is by employing our installers directly. We will never send a contractor out to your house; all of our installation and service personnel are direct representatives of our company. You can count on them to provide services in a professional and respectful manner.
We Have 25+ Years of Experience

At H2o Concepts, we've been in the water conditioning business for a very long time; founded in 1991, we've been serving the Phoenix community for more than 28 years. Longevity like that is hard to find in the business world. We credit our success to our dedication to providing the very best water filtration systems available on the market and our commitment to superior customer care.
We're Accredited by the BBB
Thanks to our exceptional products, personalized customer service, and years of hard work, we've earned accreditation and an A+ rating from the Better Business Bureau.
We've Earned High Ratings on Google
We also receive positive feedback from our customers; to date, we have earned a 4.5-star rating on Google reviews.
For Clearly Better Water, Contact H2o Concepts Today
If you want to provide your family with the healthiest, safest, and best tasting water around, give H2o Concepts a call. Our local number in Phoenix is 623-582-5222. If you prefer to reach out to us online, just click the "Contact" button found at the top of the page and provide us with your information. We look forward to talking with you soon!