Gila Bend Whole House Water Filter
Are you tired of calcium or limescale build-up around your shower head and faucets? Do you hate the unattractive water spots that show up on your dishes after pulling them out of the dishwasher? Have you ever wondered what it would be like to drink water from the tap and it not taste metallic or of chemicals? Then it is time to install a Gila Bend Whole House Water Filter. H2O Concepts' whole house water filtration system is the most eco-friendly water filter on the market. Since 1991, H2O Concepts has provided crystal-clear water to Arizona residents and residents all across the U.S.. If you are interested in installing a whole house water filtration system in your home, contact us today! 
H2O Concepts Gila Bend Whole House Water Filter Technology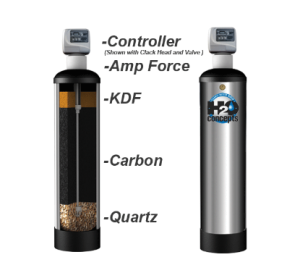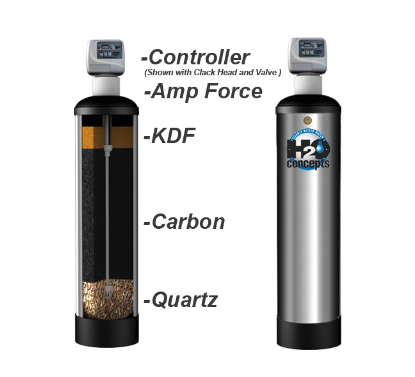 H2O Concepts' Gila Bend Whole House Water Filter is unlike other whole house water filters on the market. It does not require salt or potassium to purify the water, but instead, we use Granular Activated Carbon, or coconut shell GAC, in our systems. Using GAC will absorb organic compounds, taste and odor compounds, and synthetic organic compounds that could be floating around in your water. 
We also use Amp Force technology in our whole house water filtration systems. The Amp Force technology concentrates on the bicarbonate crystals of the minerals, and once these minerals form on one-another, it will prevent the build-up of minreals within the pipes that result in premature failure of water using appliances. Calcium and magnesium bicarbonate crystals are insoluble, but can be changed by temperature (energy) into the soluble form of carbonate crystals. When these components are combined together, they work together to provide you with a great water filtration and a hard water solution.
All of our water conditioning technology is patented and we manufacture our whole house water filter systems at our Phoenix location. All of our installers are employed by H2O Concepts and we operate and own all of our install vehicles. We take pride on our products and our company and want to give our clients the best experience possible. If you are interested in owning the most green-certified water filtration system on the market, contact H2O Concepts! 
Benefits of a Whole House Water Filtration System in Your Home
You might be wondering 'why should I invest in a Gila Bend Whole House Water Filter system when I could just install a water softener or attach a water filer to my faucet?' Those are valid suggestions, however, there are a lot of benefits for having filtered water coursing throughout your home. 
Evinromental Preservation


In America alone, about 60 million bottles of water are thrown away every day. By eliminating the need for disposable water bottles in your home, you are taking away extra waste your home produces. Even if you recycle the chances of it ending up in a landfill are pretty high. Going with a whole house water filter solves that problem and gives you unlimited clean water to drink and cook with.  
Cleaner Clothes and Dishes


Hard water is notorious for fading the coloring clothing thanks to the harsh minerals and chemicals found in it. When it comes to your dishes, hard water can have limescale build-up and leave large water spots behind. Getting a whole house water filter can keep your clothes and dishes clean and fresh for longer periods of time and don't require the extra work. 
Improves Kidney Functions


There is a lot of minerals and chemicals found in hard water that can make your kidney's work over time and strain them. Filtered water is healthier, cleaner, and won't put unnecessary strain on your body. 
Better Hair and Skin Health


Your hair care and skin routine can only do so much to prevent damage, but did you know that  hard water can dry out your hard and skin? The minerals and chemicals in hard water can cause breakage and dullness in your hair as well as irritation on the skin. Investing in a

Gila Bend Whole House Water Filter

can give you the hair of your dreams and silky smooth skin. 
Improves Immune System 


With cold and flu season around the corner, you need to build up your immune system so you can enjoy the beautiful fall and winter season. There's so much to do and you can't spend that time sick in bed. The first step is to start drinking fresh, clean water. Hard water or untreated well water can actually make you sick or more susceptible to viruses and bacteria. Using a whole house water filter can give your family the immunity boost you need and is great for those with weak immune systems. 
Contact H2O Concepts for Installing Your Gila Bend Whole House Water Filter Today! 
Interested in one of H2O Concepts' whole house water filtration system? Contact us today to schedule your installation! We are more than happy to assist you and answer any questions you may have regarding one of our filtration systems.