I remember the day we bought our first home, in the Phoenix area. We were young and excited to take on this new task of homeownership! We were still unpacking boxes when the first knock came on the door. When we opened the door to a door to door vacuum salesman. I felt like I was in an episode of "Leave it to Beaver." I had no idea that these types of positions still existed. Over the next few weeks, we had more and more people coming by and attempting to see us all kinds of things from, carpet cleaning, to new windows. I guess word gets out when there are new fresh fish in the pond. One salesperson, in particular, caught our attention. He wanted to test our water and see if we needed a filtration system in our home, so we made an appointment for him to come back about a week later.
When the gentleman came back, he took a glass of water from our sink and ran all sorts of tests on it. His results were pretty startling to us. We had just moved here from a small town in Texas, where the water quality and hardness were not ever really a topic. The water was not hard, and the water tasted and smelled fresh and clean. When he told us of all the contaminants in the water in Arizona and showed us the hard water build-up areas on faucets and appliances, we were pretty shocked. He then went into telling us about water softeners and filtration systems and how they can help with the problems we face with our water. After that, we really started to do some research on water softeners and filtration systems, salt, no-salt, big, or small. It was all very overwhelming but seemed like a worthwhile investment. We used water on a daily basis and now that we were homeowners maintaining all these appliances was now our responsibility, and it turned out that a dishwasher wasn't that cheap!
Decisions, Decisions
We ended up going with the traditional salt system. It did its job and softened its water and kept our appliances from corroding, but soon we realized we need to get a reverse osmosis system for the tap because we wanted to get rid of all the excess sodium from our drinking and cooking water.  We quickly became annoyed at purchasing and hauling the large bags of salt to fill the container each month or so. It always seemed that we needed salt at the times I went to the store alone, and those bags are heavy! It was very soon that we regretted our softener decision and wish we had gone with a lower maintenance system. Owning a home was already becoming such a bigger task then we were expecting, but we had lived I apartments for many years prior.
Live and Learn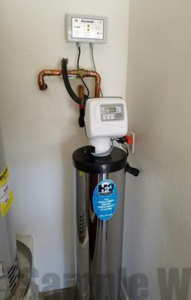 Like so many other things in life, the house we started in is gone and we have moved on to a bigger and more chore ridden home. With kids, a bigger house always seems like a good idea, but I miss the days of cleaning that tiny apartment top to bottom in less than an hour! We are older and wiser now and we are on house number 3. When we moved into this house, it had a traditional salt system in it, as well. We quickly got rid of that and went with a much lower maintenance more long-term solution, since this will likely be our forever home. We decided to go with an H2o Concepts whole-home filtration system. We wanted great contaminant-free water for our family and as little hassle for us as possible. This system has zero maintenance and backed with a 10-year warranty. I don't haul and salt or change any filters and I don't need an r/o system taking up all my under-sink space! We have clean great tasting water from every tap in our home and we couldn't be happier with our decision.
-Happy H2O Concept Customer