Whole House Water Filtration System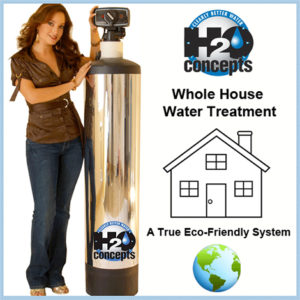 Many homes have a filtration system in their home to help make their water cleaner, healthier and better-tasting.  Most of these homes then have another system in the home to "soften" the hard water we are cursed with here in Arizona. At H2o Concepts, we have created a perfect solution to both problems in one space-saving, money-saving Whole House Water Filtration System. Our system uses our patented Amp Force technology to break down the hard water minerals and turn them into a soluble form that leaves them in the water so you can absorb the needed nutrients from the calcium and magnesium without them causing the hard water issues that cause your skin to feel dry, soap not become "soapy" and damage to your appliances.
Benefits of a Whole House Water Filtration System
There are numerous websites you can go to see how the quality of the water in your area compares. You can search "what's in my water" and you will get the EWG, EPA and many more sites that you can see how your water measures up. If you live anywhere pretty much in the Phoenix area you will see that your water is not only hard but pretty contaminated as well, and some of it is pretty harmful stuff that you do not want in your water or your family's bodies.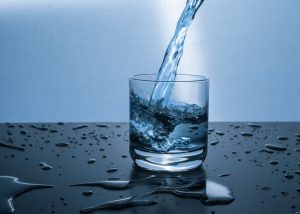 Our Whole House Water Filtration System will bring great tasting water to every faucet to your home. It will reduce or eliminate chlorine, heavy metals and contaminants from your water. You will have healthier skin and hair and they are proven to reduce hard water problems. A few added benefits to our H2o Concepts Whole House Water Filtration System is our patented Amp Force technology, KDF Media, a 10-year warranty, and no salt to buy!
Our Media:
The H2o Concepts KDF Media is designed specifically to reduce or eliminate the chlorine and heavy metals found in our water. It is also designed to control the bacteria, algae and scale build-up and has received several certifications.
Amp Force technology:

Unlike a traditional salt system, our technology uses energy to change the hard water minerals into a soluble form to prevent the hard water build-up instead of just replacing them with sodium or potassium. This leaves the vital nutrients we need and doesn't add excess sodium to our water or unnecessary waste of water with the backwash which also makes us the most green system on today's market.
Check out some of our videos HERE and see our amp force technology in action on our Whole House Water Filtration System.
 We would love for you to give us a CALL or fill out our CONTACT form so that we can talk to you about all that H2o has to offer you in a Whole House Water Filtration System. We can help you navigate through all of your questions and concerns and find the solution that best fits your family's needs. Our knowledgeable staff would love to earn your business today!