Arizona Whole House Water Filter
H2O Concepts has the answer for your Arizona Whole House Water Filter!
Most homeowners who live in areas with hard water, like Arizona, have previously chosen to go with the traditional salt system to soften their water. This is because it is usually the most common and comfortable choice. Years ago it was the best option for dealing with your hard water issues; However, technology is ever-changing and that doesn't exclude the home water filtration industry.
What Does Our Arizona Whole House Water Filter Do?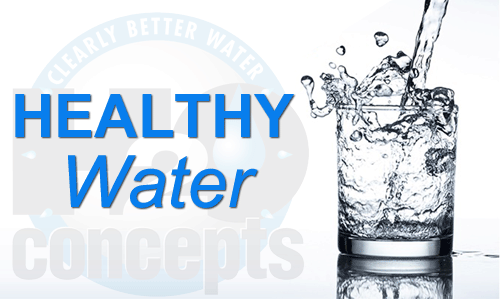 The fact of the matter is that saltwater systems do not actually soften anything and are definitely not a whole-home solution.  The traditional salt systems use an ion exchange to process, in which it takes the calcium and magnesium in hard water and exchanges them with sodium to remove the calcium and magnesium. Removing these minerals help with the calcium build-up that reduces the life of your appliances. This is the white buildup of calcium that no one enjoys scrubbing off of their faucets.
In addition to the salt system you then need to buy a reverse osmosis system to take the access salt out of your drinking water. Now you have two systems to maintain, not to mention the heavy lugging of the 40lb salt bags. 
We have also learned that this is not the safest method for our environment.  Our wastewater systems were not designed to handle these large amounts of sodium that is back-washed into the wastewater and this high level of salinity in the water is becoming costly in the water treatment process.
Additionally, We have learned that our bodies need some of the calcium and magnesium that they absorb through the water and completely removing these minerals from your water source is not the best option for you and your family.
What's the Best Arizona Whole House Water Filter My Home?
Don't worry! H2o Concepts has developed a whole home filter that takes the worry, maintenance, chlorine, heavy metals, and contaminants out, all while leaving the minerals your body needs, giving you healthier great-tasting water out of every faucet in your home and without the addition of unwanted sodium! All backed with our 10-year no-nonsense warranty. 
Why is H2O Concepts the best Arizona Whole House Filter?
First of all, our systems are manufactured right here in the good 'ole US of A and right here in Phoenix, Arizona. We stand behind our systems, so they are backed with a 10-year warranty. Our new "AMPFORCE" technology combined with our previous method has created a water conditioning and treatment system that provides homes and businesses with amazingly great tasting water that is now safer and better for the environment as well. This whole-home system is patented and the most certified green system on today's market, including the Water Quality Gold Seal. We have been around since 1991 and have grown with the industry and changed with today's technology. We want your family to have the same clear and clear water that we give our families.
What Makes this System "Whole Home"?
We say that our system is the best Arizona Whole House Filter because you will have "better than bottled water" coming straight out of every tap in your home without the need for extra systems to make your drinking water safe.
In the kitchen, this system will help because now you have clean fresh great tasting water coming directly out of the kitchen sink. Your boiled foods will have better flavors and no more cooking with chlorine contaminated water. Your ice will be clear and delicious, and your coffee and juice tasting better than ever. The dishes will come out cleaner and your appliances will last longer without the calcium build up corroding all of the pipes and tubing. The buildup in your pipes can also cause your appliances to leak and use more energy which results in wasted money for you. Let's face it, dishwashers, refrigerators and washing machines are not cheap! You can also eliminate the bill of bottled water or cartridges for your reverse osmosis system because now you have better than bottled water coming straight out of ALL of your faucets!
Not only is your food being cooked in cleaner better-tasting water, but your body is now being cleaned in better healthier water. This truly is a whole house system and our system will reduce or even eliminate the harmful chlorine in your water. Our Arizona Whole House Water Filter will help your skin feeling smoother after shaving or showering, reducing your dry skin and making your hair softer and more manageable; all while leaving the calcium and magnesium that your body needs, unlike a salt system that merely removes them.
Why H20?
H2o Concepts was established in 1991 and has proven to have what it takes to have long term sustainability in the water filtration industry. We are located in Phoenix Arizona and all of our manufacturing is done here at home. We not only pride ourselves on being an American made product but also that our installers are direct employees of H2o Concepts and we operate our own service and installation vehicles.
We are a licensed, bonded and insured contractor and we stand behind our product with a 10-year warranty. We know that everywhere and especially here in Arizona water quality varies in areas and can even vary house to house and we work to meet the specific requirements for your needs.
How does this save me money?
Appliances last longer and run more efficiently
Improves the performance of your laundry detergent
No heavy salt bags
Less water usage
No more buying filters
No need for bottled water
Virtually maintenance-free
10-year warranty
No need for a Reverse Osmosis System and its maintenance
Will not eat through the bladder of your hot water heater like salt is known to do
We know that Arizona is known for having hard water, but the majority of Arizona is actually not even considered to have hard water. It is considered to be in the very hard category. Due to having 180 milligrams and over per liter of calcium carbonate. Years ago, the traditional saltwater systems were considered to be the best method for reducing the hardness in water for areas like Arizona, but times have changed and now is the time for you to make your change.
Our systems are environmentally friendly and have no added chemicals or brine being added to the environment so you can rest easy knowing you are doing your part to help mother nature.
Our maintenance-free whole-house systems will save you time and money, give us a call today and we get you the clean and clear water nature intended. Ask about our specials and let us get you switched out to the best Arizona Whole House Filter system on the market today.